Do you have a strong desire to visit Sardinia?
You are in the right place: contact us for a quote and we will get back to you in a few hours, or book easily in a few clicks.
…do you still have any questions? Contact us!
+39.349.7205233
We can still try to tell you about the beauties of our land but words alone could never describe how beautiful this place is! Stintino is a fishing village wedged between two seas in the wild north-western part of Sardinia. From above, this area has almost the shape of a hand trying to touch the island of Asinara and holding a beautiful gem such as La Pelosa, the most beautiful beach in Europe, and other beauties such as Ancora – where our private beach is – and the beach of Gabbiano. A route that you can follow on foot, by car… or even with us thanks to our shuttle service!
All things considered, you only need to dive in!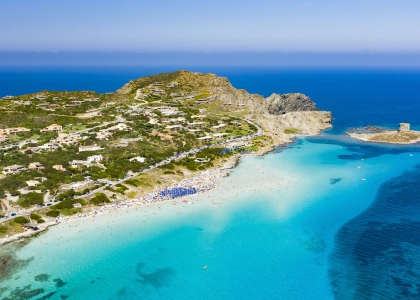 La Pelosa beach.
(1 km)
Less than 1 km away from the hotel, you will find the beach which many including us, consider it a natural heritage of soft white sand with a gently sloping seabed, turquoise water and an exceptional view of the Gulf of Asinara and the sea stacks of Capo Falcone. The most characteristic symbol of the beach is the 16th-century Aragonese tower. It is easy to reach on foot but if you prefer, from June to September we offer a free shuttle service!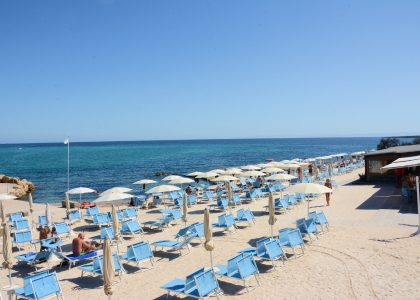 Reaching the Yacht Club!
A path of just 250 m – which does not cross any roads– will take you from our panoramic garden to the Yacht Club, our private and very well equipped beach. Its shallow waters make it very safe for children and they can also have fun with the activities organised by the entertainers every day (10am-12pm; 4pm-6.30pm). There is a salt water pool, a wide choice of sports and boat excursions.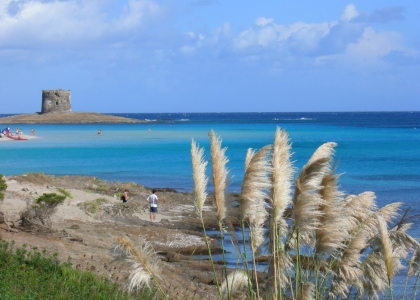 Gabbiano beach.
(0,800 km)
A well-equipped beach with very fine sand, clear turquoise water and a gently sloping seabed. The beach of Gabbiano is just 800 metres from the hotel. You can easily reach it with a 10-minute walk or take advantage of our free shuttle service from June to September!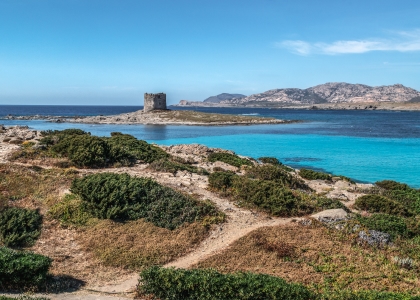 The charm of unspoilt beaches.
Explore off-road some of the most beautiful beaches around Stintino to spend some days in close contact with nature. Do you need a list? Here it is: Saline, roughly 2 km from the hotel, and the beaches of Argentiera and Porto Palmas reachable in 30 minutes by car. The first one is a strip of white sand with an equipped lido and a public area. The other two beaches are unspoilt and uncrowded, ideal for experiencing the real Sardinia.
I wonder how many other things there are to discover…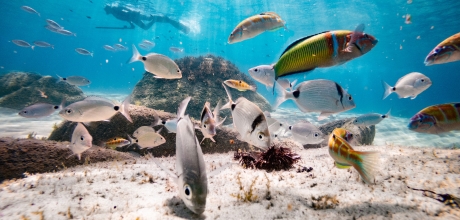 Not just relaxation: sports and excursions!
There are some who just want to lie down on a sunbed on the beach, maybe enjoy a granita and read the book which they have long wanted to finish. Then there are others who can never stay still! In our Yacht Club private beach, you can choose between beach volleyball, diving, snorkelling, inflatable dinghies, pedalos, canoes and windsurfing or an excursion on a sailing boat or a catamaran in the Gulf of Asinara.
Things to do in Stintino.
(2,6 km)
It is an old fishing village which has been transformed into a delightful and lively town where you can walk safely.
An interesting place to visit is the Museum of tuna fishing where you and your children can learn about the history of the town at a time when tuna fishing was people's main source of income. Thanks to the multimedia exhibition, today you can learn many interesting facts about this activity and the processing of fish.
And in the evening, you can reach the town centre with our shuttle to experience all the charm of Stintino by night!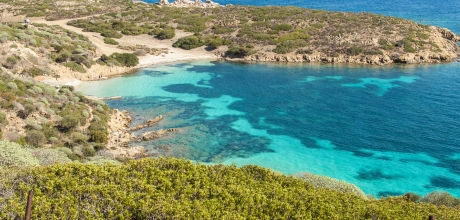 Discovering Asinara!
This island is particularly renowned for the sweet and docile white donkeys which inhabit it and graze in the Mediterranean scrub. It is a place which combines history, myth and unspoilt nature to be explored on foot, by mountain bike, train, jeep, bus… or even on a horse! Its seabed has been declared a protected marine area for the beauty and richness of the marine biodiversity: a real underwater spectacle which you can admire by snorkelling or diving. On the island, there is also a 19th-century small village, a necropolis and an Austro-Hungarian ossuary. The real treasure though is the rich natural environment with many species of animals living in the wild.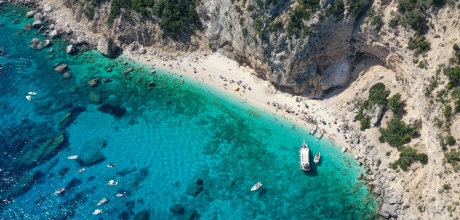 On the road in north-western Sardinia
Do you love exploring a place by car? You've come to the right place! Starting from Stintino, you can follow a unique route which will take you through the most iconic locations in north-western Sardinia: Alghero (50 minutes), Sassari (40 minutes), Castel Sardo (1 hour).
In just a couple of hours by car, you can also reach the very popular Costa Smeralda if you want to live a day like the VIPs!