Do you have a strong desire to visit Sardinia?
You are in the right place: contact us for a quote and we will get back to you in a few hours, or book easily in a few clicks.
…do you still have any questions? Contact us!
+39.349.7205233
A sea view is a real special luxury: here you can have it!
Travelling with your family is such a great experience, doing it among unspoilt nature is even better!
Just imagine… you are walking through our 10,000 sqm panoramic garden among the typical stone houses of Stintino, smelling the scents of the Mediterranean vegetation in the cool shade of the trees which surround you until you reach our private beach. A small bay in the Gulf of Asinara where shallow clear waters lap the beach of soft sand and the waves carry the sound of ancient Sardinian legends.
Weigh anchor: it is time to sail away!
"To choose or not to choose us? Here is the answer!"
Some good reasons to choose us for your holiday. Or maybe not. Being able to choose is a great privilege.
Location
We do not own famous paintings: the canvas is the view and the frame is our magnificent large garden!
What a spectacular view!
Entertainment
No boring games here: our goal is to completely spoil the children with incredibly fun entertainment both on the beach and in the hotel.
So much fun!
Cuisine
Not the usual menu but a gourmet experience with locally-sourced products, succulent grills and delicacies prepared by our pastry chef.
Everything is so delicious…
A good sleep is good for your health…
…even more when your room smells new! Thanks to the stone buildings of Stintino, the light and modern furniture, you are guaranteed your Sardinian dream.
Standard Rooms
Superior rooms
Standard Family Rooms
Family superior rooms
Tartabell's cove
"In the sun
I am having so much fun, yeah…
…playing games!
In the sun, tournaments, Nutella party and
amazing evenings!"
A child's laughter is the most beautiful song for us.
Let's have fun together!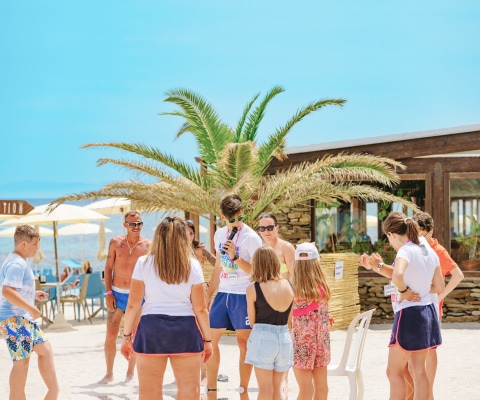 Swimming pool or private beach? Choose both!
Relax on our private beach of soft sand where the warm calm sea is almost like a pool. If you prefer a real one though, you can dive in the exclusive salt water pool just a stone's throw from the shore!
Where will you swim today?
Ancora Advisor: your words count!
Great spot, great food and really nice personel
Fantastic hotel with the sweetest and helpful personel. Close to one of the most beautiful beaches of sardinia. A hotel shuttle can bring you there several times a day. The breakfast and diner were delicious and every day something else. The whole family loved it. Rooms are clean and spacious. A special thanks to the girls from the reception, really helpful when our baby needed to go to the hospital and they helped us a lot. Also the hotelmanager was a big help. Thx you for having us. We will certainly return! Rene and leonie
Rene
Pleasant place
We were very satisfied with the level of services. The hotel is located in beautiful countryside, with very good and varied cuisine and friendly staff. The weather in October made it possible swimming on the hotel's beach and it was enjoyable for excursions to the beautiful places of the west and north coast with the rented car. We have beautiful memories of Sardinia.
Radmila B
Amazing hospitality, nothing is too much trouble!
Our second visit! As a family of four (children 10 and 8) this hotel is perfect. The family room was spacious with a separate room for Mummy and Daddy. The buffet food was FABULOUS both hot meals/pasta and cold antipasto. Yes there is a walk to the yacht club/beach/pool and a charge for sunbeds. But as English people it means dawn sunbed wrestling – we like a sunbed and the charge includes pedalo and kayak use and plenty of lifeguards- the beach is spotless. The hotel has a bus service that you can utilise to drop and collect you from various spots along the coast including the beautiful la Pelosa beach. We are so sad to go and we will be back!
Charlotte P